HOW TO SET UP YOUR PROFESSIONAL WEBSITE FREE OF COST
So, you have decided that you need to create a website, but there is probably a small part of you still asking, "do I really need a website? is it the right investment of my resources" or perhaps you think building a website will be too technical and time-consuming.
Setting up a website in 2020 can cost you as little as $0 – $5.
Here is our list of the best free website builders that let you create a website free of cost.
There really is no need to be apprehensive about getting your first website up and running on the Internet. Especially when you can create a website free of cost.
Here are 3 notable options and our top picks from the list, if you are in a hurry and can't go through the whole list, check out these three below
Best Overall: Wix. The easiest tool to create a stunning site as quickly as possible and a site that is fast loading and optimized for search engines, but on free plans ads are displayed.
Runner-Up, Best Overall: Site123. Create a stunning and professional site that requires no design or coding skills, but it doesn't come with drag-and-drop functionality.
Best Value: Google My Business. Basic designs and limited options, but it's 100% free and ideal for small businesses that don't need a lot of content on their site. Google business site is relatively new and should be a good option going forward as Google is bent on adding more new and exciting features
If you're still reading through to this point, that means you'll be interested in knowing all the available options, so you can be able to make the best choice for you and your business.
Today's website builder tools are very easy to use and you don't need to know any HTML coding. They are extremely user-friendly using drag and drop functionality, and a WYSIWYG text editing (like Microsoft Word).
So, how to create a website for free?
Firstly, choose a free website builder.
Secondly, connect a domain name or use a free domain name.
Thirdly, set up and customize your website.
When your website is ready – then go-ahead to publish it!
What you will learn in this post:
How to create a website for free using a website builder.
Find out which is the best free website builder?
List of free website builders; features, and pros and cons.
Are free website builders really free?
Why you need to have a website.
Now let's take a look at the best website builders that lets you create a website free of cost.
BEST WEBSITE BUILDERS THAT LETS YOU CREATE A WEBSITE FOR FREE
1. WIX
Website: www.wix.com
Free plan: Yes
Paid plan: Yes from $5 per month
E-commerce ready: Yes (only on a paid plan)
Mobile-friendly design: Yes
Drag and drop: Yes
Wix is easily one of the well known of all the free website builders and that is probably because they have been using some big Hollywood movie stars for their marketing campaigns.
Currently, Wix powers around 110 million websites and online stores, so that alone should tell you something. Signing up to Wix is a breeze and you should be up and running in a few minutes.
Once signed up you will be presented with several industry-specific templates to choose from and this is probably one of their biggest strengths, the professional look of the templates. Whether you're a photographer, graphics designer or baker there will most likely be a template suited for your industry.
It is important to mention that the free templates may not impress you very much and this is where you might have to consider a paid upgrade. Another thing Wix do well is that all their sites are fully responsive.
What this means is that the website will automatically adjust to whatever device it is being viewed on, so it could be a mobile phone or a tablet. This is a very strong feature as it is a requirement for ranking on Google and with the rise of mobile usage adoption, you should have a mobile responsive interface for your website.
Paid options start at just under $5 and can go up to around $25 per month. Paid plans include, connect a custom domain, remove ads, increase storage, VIP support and running email campaigns.
What are the pros and cons of using Wix?
Wix Pros
 Ease of use
 Professional templates
 Fully responsive
 Largest website builder on the market
 Free provides a full working website
 The huge Wix app market
 Good security
Wix Cons
 Ads may be intrusive
 Free templates look a bit dated
 The basic plan does not remove ads
 Data cannot be exported
2. WEEBLY
Website: www.weebly.com
Free plan: Yes
Paid plan: Yes from $8 per month
E-commerce ready: Yes (only on a paid plan)
Mobile-friendly design: Yes
Drag and drop: Yes
Weebly has been around for a very long time and it is an extremely popular option if you only want free with no intention of using any upgrades. Weebly hosts about 40 million websites on the internet.
When you first start with Weebly you instantly notice how easy everything is. The drag and drop in very intuitive and user-friendly.
This is a great option for absolute beginners. Columns can be moved and resized along with most other elements.
Another great thing I really like about Weebly is that when you are editing one element the rest will fade out, this is really neat and a great way to limit distractions.
The pricing plan is very simple and with the basic option at $8, ads will be removed. On my test with Weebly, I built out a 100-page website which it coped with very well.
Using Wix I would not be so confident in building larger sites. If you or somebody on your team is experienced and knows code, Weebly easily allows you to edit the coding. This is great news for advanced users.
There is also an app where you could even integrate appointments into your website.
Just like Wix, Weebly offers a very wide range of professional themes and I feel that it's a very complete package, with good value for money if you choose the upgrades.
As mentioned previously the basic plan starts at $8, Pro at $12 and business at $25. For the free plan, you will be on the Weebly subdomain and will have a small ad in the footer of your site.
Add free plan image
What are the pros and cons of using Weebly?
Weebly Pros
 Non-intrusive ads
 Simplified pricing
 Very beginner-friendly
 Professional themes
 HTML coding can be used
 Fully responsive
 Good eCommerce platform
Weebly Cons
Cannot fully customize theme colors
Moving your site can be difficult
No site back up
3. SITE123
Website: www.site123.com
Free plan: Yes
Paid plan: Yes from $9.80 per month
Ecommerce ready: Yes (only on a paid plan)
Mobile-friendly design: Yes
Drag and drop: No
Site123 is aimed at those that want to get up and running quickly and is great for business owners that want to set up e-commerce sites, blogs and landing pages.
What makes Site123 different is that it completely does away with the drag and drop building which most other Website builders use. To some, this will either be fantastic or a step backward.
To get started you can choose a theme and several different design options.
Although the themes are not the most exciting, you do get a lot more customization options than other website builders.
You can then upload content and the site will be generated for you. As with all website builders, the free option is limited, especially around e-commerce.
The premium plan starts at $9.80 per month and comes with a free domain for 1 year (or you can use your own domain) and removes the SITE123 branding. What are the pros and cons of using Site123?
Site123 Pros
Multilingual sites
Professional looking e-commerce sites
SEO Friendly sites
Full website support
Easy to use
Site123 Cons
 No drag and drop
 Confusing pricing structure
 No access to the site code
 The free e-commerce site is very limited
4. STRIKINGLY
Website: www.strikingly.com
Free plan: Yes
Paid plan: Yes from $8 per month
Ecommerce ready: Yes (only on a paid plan)
Mobile-friendly design: Yes
Drag and drop: Yes
Unlike Wix and Weebly, the chances are you have never heard of Strikingly. Strikingly's main selling point is bold, beautiful modern one-page sites.
A one-page website is a site where the user will scroll through different sections as they land on the home page, a type of design that is becoming very popular these days.
Since the main feature is one-page sites, strikingly can strip away a lot of the tools and buttons that other website builders require.
This, of course, makes it very user-friendly.
There are some good options for templates, although not at the level of Wix or Weebly.
What it does do well to make up for this, is present you with templates that are completely good to go straight out of the gate.
There is not a lot of tinkering that needs to be done.
To build your site you will simply move the sections you require from left to right.
You can also add apps, although again the offering is not on the same level as other website builders.
One thing to note regarding Strikingly is that the free option is limited in what it can do.
In saying that, the upgrades from $8 to $16 provide serious value for money.
Users can also go pro for a year free, just by linking a LinkedIn profile and syncing some contacts. This will save you $16.
What are the pros and cons of using Strikingly?
Strikingly Pros
Professional looking sites out of the box
Mobile optimized themes
Great value for money
Zero code or design skills required
Generous rewards program
Strikingly Cons
 The free option is a bit limited
 A small number of themes you can use
5. UCRAFT
Website: www.ucraft.com
Free plan: Yes
Paid plan: Yes from $6 per month
Ecommerce ready: Yes (only on a paid plan)
Mobile-friendly design: Yes
Drag and drop: Yes
The Ucraft website builder is based on blocks. You stack blocks on top of each other and in the end, you will have a complete website.
While there are only 35 blocks which is not a lot to make your website stand out, they are fully customizable.
Every block contains elements that you can add or remove, and this is where you can get creative. You can even create your own blocks from scratch.
Regarding e-commerce, this is one of the strongest features of Ucraft as it has its own e-commerce engine.
Although, if you are looking to get up and running in the quickest time possible, Ucraft may not be for you.
Ucraft premium plans start at just $6 per month.
What are the pros and cons of using Ucraft?
Ucraft Pros
 Highly customizable website builder
 Strong e-commerce features
 Excellent customer support through live chat
Ucraft Cons
No site backups
Cannot undo your edits
Not suited for larger more complex sites
6. LANDER
Website: www.landerapp.com
Free plan: Yes (but only for 14 days)
Paid plan: Yes from $16 per month
Ecommerce ready: Yes (only on a paid plan)
Mobile-friendly design: Yes
Drag and drop: Yes
Lander is a fully-featured landing page builder.
If you are not familiar with the concept of landing pages or not sure whether you need one, they are very simple one-page sites designed to capture leads or persuade a visitor to take action.
Landing pages by their very nature will have a lot less content than a regular website, with some of them only displaying a single call to action.
Lander makes building landing pages incredibly simple with a clutter-free interface.
You can integrate payment gateways and perform A/B split testing, which is an essential feature for any landing page builder.
Also on offer are analytics and full tracking.
One cool feature is Dynamic Text. This allows the user's search query to be inserted automatically into the landing page as part of a pay per click campaign.
Although there is a 14-day free trial, Lander can become very expensive, as the plans are based on the number of visitors your landing page receives. Lander's basic plan starts at $16 per month.
What are the pros and cons of using Lander?
Lander Pros
Split testing
High converting templates
Easy to use
Built-in reporting system
Mobile responsive templates
Facebook fan page integration
Lander Cons
 The free option is only for 14 days
 Expensive plans
7. JIMDO
Website: www.jimdo.com
Free plan: Yes
Paid plan: Yes from $6 per month
Ecommerce ready: Yes (only on a paid plan)
Mobile-friendly design: Yes
Drag and drop: Yes
Jimdo is mainly aimed at those that mainly want to build e-commerce stores and their main idea is the ease of use every step of the way.
Right now, there are around 20 million Jimdo sites with around 200,000 of them being online shops.
With Jimdo you can be up and running and selling products within minutes. Where things could be improved are the templates. Although there are many of them, some more flexibility with them is needed.
The pricing is just about right for an e-commerce website builder, although I would say that if you're not going to make use of the e-commerce features, another website builder with cheaper plans would be recommended.
Pricing plans start from free, to $6 to $17.
What are the pros and cons of using Jimdo?
Jimdo Pros
 The quickest way to get an e-commerce store up and running
 Very affordable pricing
 Access to the code
 Strong SEO elements
Jimdo Cons
 Templates feel a bit dated
 The payment system may not be the best for US sellers
8. CARRD
Website: www.carrd.co
Free plan: Yes
Paid plan: Yes from $19 per year
Ecommerce ready: No
Mobile-friendly design: Yes
Drag and drop: Yes
Carrd is a relatively new website builder having just being launched in 2016.
It is also another one-page builder just like Ucraft and if you want the simplest easiest website builder, Carrd is likely to be the one.
Overall there are 54 templates, 14 of which are for pro only users.
The templates are not grouped together by industry, but rather by type, as in portfolio, landing page and profile.
Altogether the templates look very sleek and inspiring.
You put your website together using elements and everything feels very natural.
Some of the elements include timers, forms, and galleries.

As usual, the free option will limit you to a subdomain, but where Carrd really stands out is the paid upgrades, you can go pro for only $19 per year.
Carrd Pro is just $19/year and lets you use a custom domain and removes branding. What are the pros and cons of using Carrd?
Carrd Pros
Very user-friendly and simple to use
Extremely cheap upgrades
Professional looking sites
54 responsive templates to choose from
Carrd Cons
New in the marketplace
Email support only
Limited to one-page sites
9. ZOHO SITES
Website: www.zoho.com/sites
Free plan: Yes
Paid plan: Yes from $5 per month
Ecommerce ready: No
Mobile-friendly design: Yes
Drag and drop: Yes
Yes, it has a bit of cool name but what's it like as a website builder? Overall Zoho is a very competent website builder.
Getting started is pretty quick and you begin with the usual drag and dropping of elements.
While using the drag and drop along with the customization of the site, the whole experience did not feel as polished as other website builders.

There is a large selection of themes to choose from with some of them looking very professional, while others look like they're from the 1980s.
Although they offer 97 templates, not all of them are responsive.
Being that Zoho is a rather large software corporation providing SaaS and CRMs, some of the site features like the form builder are outstanding.
Pricing for ZoHo starts from free, to $5, $10, and $15 monthly.
The monthly plan provides the e-commerce plan, however, it's very limited as you can only offer 25 products for sale.
What are the pros and cons of using Zoho Sites?
Zoho Sites Pros
Impressive feature set
HTML and CSS access
Built-in SEO tools and traffic statistics
Free plan available
Zoho Sites Cons
 Not all themes are fully mobile responsive
 Some themes feel outdated
 The editor can feel a bit awkward
10. GOOGLE MY BUSINESS
Website: www.google.com/business/how-it-works/website/
Free plan: Yes
Paid plan: No
Ecommerce ready: No
Mobile-friendly design: Yes
Drag and drop: Yes
How can I make my own website on Google for free? Google My Business is the answer.
Google My Business is a free website builder lets you create a simple website in a matter of minutes.
Google's website builder is completely free, and the site you build is easy to create and edit from both your desktop computer and mobile phone.
You don't need to have a physical storefront to build your site with Google My Business, if you have a service-area business or home-based business with or without an address you can list your details to appear on Google.
Google my business offers the best website builder platform for developing countries like Nigeria, as you get the added benefits of being listed in Google local search, which can boost visibility to your website from Google searches
What are the pros and cons of using Google My Business website builder to create a website for free on Google?
Google My Business Pros
Lets you connect your own domain name
Free from ads or branding
Responsive templates
AdWords Express ready to drive traffic
Google local search appearance
Google My Business Cons
Limited options, not ideal for larger or more complex sites
Basic templates and designs
Not ideal for eCommerce site yet
11. SITEW
Website: www.google.com/business/how-it-works/website/
Free plan: Yes
Paid plan: Yes starting from $9.33
Ecommerce ready: Yes, only in the paid plan
Mobile-friendly design: Yes
Drag and drop: Yes
SiteW is a website builder you probably haven't heard of. That doesn't mean you should ignore it.
It is widely popular over in Europe because more than one million websites use SiteW.
It's a super easy to use and powerful drag and drop builder with mobile optimized templates built on HTML5.
SiteW offers excellent multilingual features, as it comes with language options (and support) for French, German, Spanish, and English.
Premium plans range from $9.33 to $26.66 per month, and upgrading will remove the SiteW ads, give you more storage and unlimited pages, SEO and analytics and you can use a custom domain name.
What are the pros and cons of using SiteW?
SiteW Pros
 Free to use website builder
 Multilingual (French, Spanish, German) options
 Very user-friendly website builder
SiteW Cons
 The free plan is best for building smaller and static websites
 Powerful features, like blogging and e-commerce, only come with the premium plans
12. WordPress.com
WordPress.com is one of the easiest options to build a personal or business website.
Compared to WordPress.org, it is much more easy to get started with WordPress.com.
That is because you don't have to worry about getting a hosting service.
You will be able to get a custom domain name and access to several features when you opt for a pricing plan of WordPress.com.
In addition, you will get access to over 350 themes to design your blog, portfolio or business site.
As themes are responsive, you can easily create and modify a website using a device of your choice.
WordPress.com ensures your site is always secure with spam protection and automatic backups.
In addition, you can find features like social media sharing buttons, SEO tools, and actionable analytics insights, to increase your audience base.
You will also find a bunch of additional features like advanced galleries, email subscriptions, polls and several more.
One of the major advantages of using this hosted solution over the self-hosted one is that you will get round the clock support over email and live chat.
You can opt to create a website free of cost using WordPress.com if you are fine with using a WordPress.com subdomain.
To get support and other features, you can opt for a premium plan starting at £4 per month.
Basic steps to start with WordPress.com
Register a domain name. If you already have a domain, you can easily point it to WordPress.com. You can also get a free domain with WordPress.com branding.
Choose a suitable plan.
Pick a theme and customize the design of your site.
Add the required content to your site.
Set up site access by creating a navigation menu.
Publish your website or blog.
Pros
Easy to get started.
Comprehensive solution with hosting, domain name registration, feature extensions, etc.
Versatile design options with several themes available.
Automatic updates and backups.
Dependable, round the clock customer support.
Cons
Slightly pricier compared to other website builders.
The free plan has ads and does not allow to install plugins.
It might be tougher for new users to customize the design elements compared to drag and drop builders.
Google Analytics integration available only with the Business plan.
For WordPress.org users, the same control may not be there for overall site management.
SOME NOTABLE MENTIONS THAT ARE NOT ENTIRELY FREE BUT HAVE MINIMAL MONTHLY PRICING PLANS
uKit is a hassle-free option to build a website for your business.
It is especially good for small to medium-sized businesses with convenient features and functionality.
With a lot of predefined options, it makes the process of configuring your website a pleasant activity.
It is equally comfortable for beginners as well as experts in website building.
The drag and drop builder with live preview makes it extremely easy to experiment with different options.
All its designs are responsive and hence you don't have to worry at all about compatibility with different devices.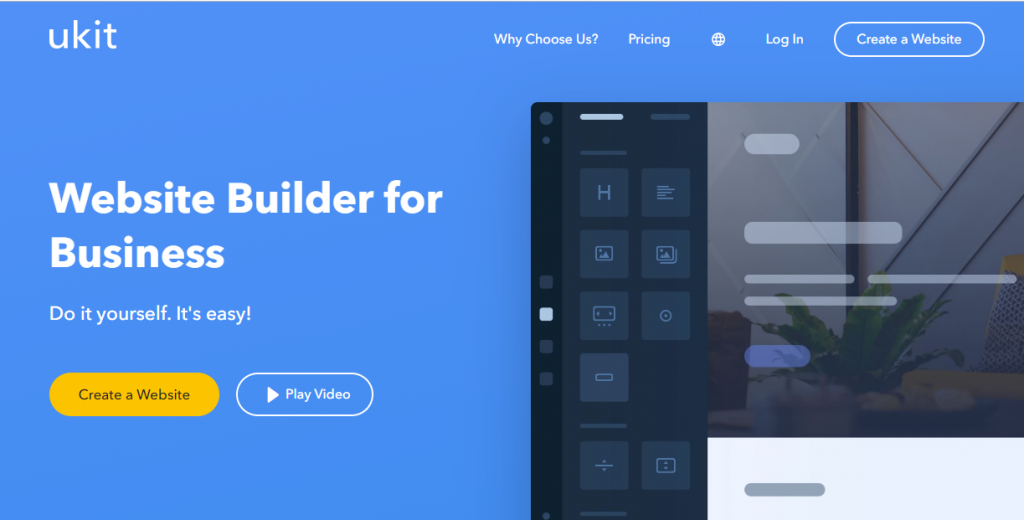 uKit is a great web builder that offers a range of fonts and colors to play with.
You will be able to fully execute your imagination while creating a website that you have envisioned.
Moreover, you can effortlessly add any type of content like text, images or video on your site without restraint.
Setting up an eCommerce store is effortless using uKit as it offers easy integration with delivery and payment options.
Marketing and promoting your website too will be hassle-free with this web builder as there are convenient options to integrate analytics and SEO strategies.
If you don't really have the time to design a website yourself, you can even choose to hire an expert team to do it for a premium.
uKit offers a free trial period of 14 days to help you get started with the website.
After the trial period, you need to choose a pricing plan starting at $4 per month for the basic features.
Basic steps to create a website using uKit
Sign up with uKit and get started.
Choose a design for your website.
Register for a custom domain name.
Start adding content.
Verify your website with Google Search Console and enable Google Analytics.
Pros
Ease of use. Experts and beginners can handle the builder with equal ease.
No hassles of getting hosting and domain name.
All designs are responsive and visually superior.
Coding options for advanced customization.
Easy integration with Google Analytics and Search Console.
Cons
No free plan even though the lowest plan is greatly affordable.
Lack of data export options.
If you are looking for a simple website builder for your website, Sitebuilder can be one of the options you can consider.
It offers all the basic features required to create a website for your business.
You will get free hosting and a custom domain name when opting for a plan of this website builder.
It offers customizable templates and a drag and drop interface that helps a lot in customizing the website.
You can easily create a blog, business site or eCommerce store using Sitebuilder.
It also offers an option to create email addresses with your domain name.
The website builder also integrates analytics options to help you understand site statistics and make improvements as and when required.
If you want a simple website, you can get started with a plan that costs $5 per month.
To create and maintain an eCommerce site, you can use this website builder at a cost of $9 per month.
Basic steps to create a website using Sitebuilder
Sign in to a plan of the site builder.
Choose a base theme and make customization as required
Choose a domain name.
Publish your website.
Pros
Very easy to get started. You can actually publish your site in a matter of few clicks using Sitebuilder.
Simplicity and ease of use with drag and drop editor and basic features.
Easy to customize templates.
Cons
Long term pricing is not great.
Only basic SEO and marketing features.
Not a great option if you are intending rapid scaling up.
ARE THESE WEBSITE BUILDERS REALLY FREE?
On to one of the main points of the blog post.
Can I really build a website for free? Well, yes.
It works like this. Technically yes, you can create a website for free but there will be limitations on the website.
Some of the website limitations that you may face if you choose the free only option, there will be adverts or branding on your site.
For your website to look more professional, you will normally have to pay for some upgrades to remove ads or branding.
Also, for the free option, you will usually have to use a sub-domain, as opposed to a custom domain name.
For example, on WordPress.com your free website's domain will be something potatoesplace.wordpress.com instead of using your own domain like Potatoesplace.com.
In other words, you will have to get a premium plan to be able to use your own domain name.
Your domain name on a free plan: https://potatoesplace.jimdo.com or https://www.jimdo.com/potatoesplace
Your domain name on a premium plan: https://www.potatoesplace.com
As well, you will usually be limited in terms of the number of pages that you can add to your site as well as any e-commerce options will be basic.
In short, "you get what you pay for" rings true here and if you are serious about your site and business, some of the premium upgrades may very well be worth the extra cost.
There are not many businesses that can be set up for as little as a few dollars a month.
On the other hand, using a free website builder is a great way to test drive a website builder and get a feel for how it all works before deciding on the one which is right for you.
REASONS TO HAVE A WEBSITE
There are so many reasons to build a website, whether that is for personal use or for your small business.
Let's look at some of these reasons in a bit more detail;
1. CREDIBILITY
This is probably the single most reason to start a new website.
Regardless of your actual credentials, people will see you as an expert once you have a polished website to represent you.
When I had my first online business I would always ask clients why they chose me.
The answer was always the same, "because you had a website".
2. SHOWCASE YOUR TALENTS (OR SERVICES)
Whether you have a small or large business or even if you are a one-man band, a website gives you a shop window.
Potential clients or employers can instantly see what you have to offer.
Some of the greatest business people of our time all had websites, Jeff Bezos from Amazon and Sean Parker at Spotify.
3. LOW BARRIER TO ENTRY
You can literally set up a business in your bedroom and attract clients within minutes, even on a tiny budget.
It's a level playing field for everyone, regardless of your social standing or education.
Remember Mark Zuckerberg started Facebook in his dorm room.
Just in case you needed any more convincing, let's look at some Internet facts (from this post). In North America in 2018, 88.1% of people used the internet, followed by 80.23% in Europe.
Did you know that Google processes over 40,000 search queries every second? That's a lot of people potentially looking for your website.
Customizing your website
Even before getting the basic aspects of building a website done, you will have to decide on what type of website you need.
It can be a business website, a simple blog, a membership site or even an eCommerce store.
The way you customize your site will be greatly dependent on this fundamental requirement.
Accordingly, the design choices, feature enhancements, content strategy, etc. will change.
However, as a general rule, you will have to take into account the following aspects while customizing a website.
Choose and install a suitable theme.
Set up your homepage and add the necessary content.
Adjust typography and pick suitable colors to represent your brand.
Create basic pages and set up a blog if needed.
Set up a navigation menu to provide easy access to users.
Choose necessary plugins or apps for necessary features according to the nature of your site.
Set up SEO and marketing tools to ensure that your site is showing up on search engine results pages and bringing in an audience.
WHAT IS A WEBSITE BUILDER AND WHY USE ONE?
A website builder is probably the easiest and quickest way to get a website off the ground in a matter of minutes.
In simple terms, it is a piece of software that allows you to build a website or blog without any coding.
As there is no coding involved, you will simply be using drag and drop elements, along with some templates.
Another free (ish) alternative to building a website is to use self-hosted WordPress.
It's a very flexible content management system (CMS) but it has a steeper learning curve compared to website builders.
While WordPress itself is open-source and free, along with thousands of plugins and themes, WordPress requires you to get web hosting which isn't free.
FREQUENTLY ASKED QUESTIONS
HOW TO CREATE A WEBSITE FREE OF COST?
Sign up with a free website builder, customize the template, create your pages, publish your website and go live.
ARE WEBSITE BUILDERS LIKE WIX, WEEBLY, SITE123, ETC. REALLY FREE?
Yes, they are really for free but you need to sign up for a paid plan to unlock all features and to be able to remove branding and ads.
CAN I USE MY OWN DOMAIN WITH A FREE WEBSITE BUILDER?
On a free plan, you usually have to use a sub-domain, you need to sign up for a paid plan to use a custom domain name
CONCLUSION
Good job, you made it through this guide on how to create a website free of cost.
I have narrowed down the best there is of the website builders out there right now for creating a website for free.
As you will see there is a lot to choose from, however, whichever one you decide on will come down to what's more important to you.
Do you want a full e-commerce store, or is your priority to have a website up and running in minutes to show a potential client?
Maybe the price is a major driver, or you just need a simple one-page site that provides a professional image. Either way, I am sure there is one above that's just right for you.